Pros
Design
Space saving
Ability to customize photos
Cons
Price per photo
Limited augmented reality functions
With its Instax Square Link, Fujifilm offers an instant photo printer in a square format. You can edit a photo, add stickers, text and even augmented reality animations from your smartphone before printing it.
Taking pictures with our smartphones has become second nature. However, many times these memories are forgotten in your mobile's storage space or the cloud. You indeed receive heartfelt thanks when you share a digital photo and offer it printed, and the recognition will be even greater.
Fujifilm's Instax brand is positioning itself as the new champion of instant photography, overtaking its ancestor Polaroid with its mobile cameras and printers. The range is available in three different paper formats:
Square: the brand's reference format, square with dimensions of 72 x 86 mm (62 x 62 mm for the photo).
Mini: the credit card size with 54 x 86 mm dimensions and 46 x 62 mm for the snapshot.
Wide: the brand's widest photo paper with a 108 mm x 86 mm surface area, including 99 x 62 mm for the image.
So here we test the new Instax Square Link, which connects via Bluetooth to your phone and offers many creative features, including augmented reality. Does Instax make paper photography more fun and modern? We'll tell you.
Design

The Instax Square Link is an ultra-portable mobile photo printer whose design is clearly inspired by the mini Link 2 from the same manufacturer. We find the same elegant and soft lines, which are more flared at the ends here. The white plastic shell is covered with horizontal stripes, whereas the mini Link 2 has vertical stripes.
With dimensions of 10.7 x 3.75 x 12.75 cm and weighing 236 g, it is easy to store in a handbag or a large coat pocket (much less a jacket pocket) without making itself felt.
A beautiful object that displays two physical buttons. The central one is backlit, allowing you to switch on and start the Bluetooth pairing mode. The second, on the top left, displays a slight volume and will enable you to restart the last print again without going through the application. On the right-hand side, we have a small rubber cover that gives access to a USB-C port for recharging the battery.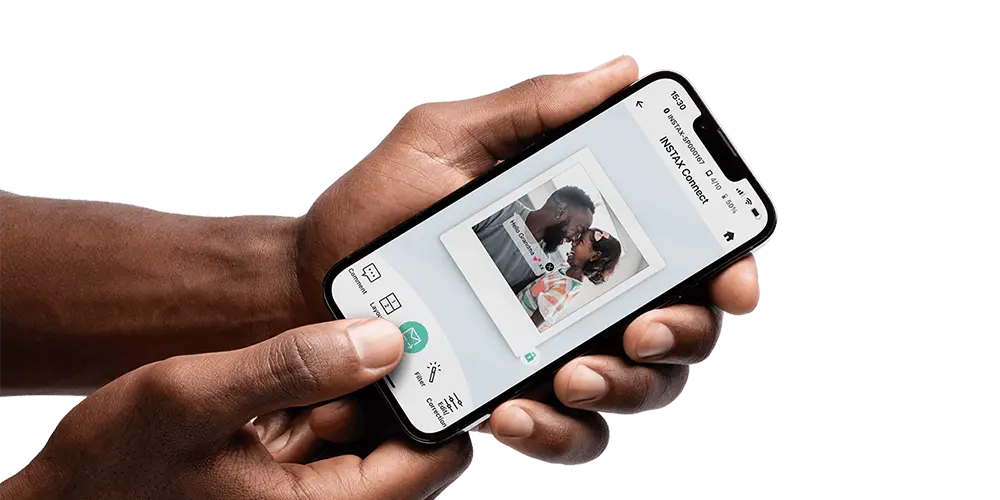 Application

This printer requires an application to work with your mobile. You will need to download and install Instax Square Link.
Before using the app and the printer, go through the pairing step. Hold the Instax button in the centre of the device for a few seconds, and pair it in the app. We regret going through the Settings to do this; an icon on the app's home page would have been quicker and more natural. The Bluetooth 4.2 connection is also perfect. You can move around a room within a 5-metre radius but don't tempt the devil by trying to change rooms.
We have four main functions, and let's start with the one that will probably be used the most: Simple printing. You take a photo directly with your smartphone or select one from your photo gallery.
Before printing, you can retouch the photo by adding filters and playing with brightness, contrast or saturation. You can also zoom (extend) the image or rotate it. Finally, why not embellish it with stickers or write a personalised message?
Instax has recently started offering augmented reality functions, which are grouped together in AR Print. This means you can associate an augmented reality (AR) animation with your photo or insert a photo that will only be visible via the smartphone. It's straightforward to set up and adds a little extra that is to be considered. To use the AR display, you need to scan a QR code embedded in the photograph.
Instax Connect allows you to send your photos as an email. Finally, the Editable Print function is a tool for creating photo montages. This is a fun function because you have to think about your composition with a small print size.
Uses
The Instax Square Link is easy to carry and easy to use. The app is a big part of it, and so is the printer. Using filters, animations, AR and other filters and stickers is at your convenience and does not affect the printing performance.
Printing speed
Good point; whether the photo is raw or enhanced by you, the printing time remains the same. Printing is done in two stages. The first is the transmission of the plate to the printer. It takes 8 to 12 seconds for the printer to start printing.
The printing itself takes, at most 10 to 12 seconds. However, the chemical process takes about 30 seconds to start making the picture appear. You must wait another 2 to 3 minutes to get the final picture. There is no point in shaking the plate, and it will not make the image appear any faster. It's worth repeating; everyone does it…
Print Quality
The Instax Square photo paper has a square format with a 62 x 62 mm margin in 318 dpi. Don't expect miracles either, but the result is still good. The image is well rendered because if it lacks sharpness and dynamics, it remains very acceptable in small format, especially for photos that will be hung on a fridge, stored in a wallet or on the back of a smartphone.
There are two colour profiles: rich and natural. The first will boost the colours to increase saturation. The second will give your prints a slightly more washed-out, vintage look but erases a lot of detail.
There are Instax Square variants with kawaii, comic book frames or simply for black and white prints. However, this is quite expensive: as much or more than going to a photo printing shop, but the print takes time…
Battery life

It is difficult to give you precise battery life for the Instax Square Link. Indeed, this printer consumes energy mainly during a print. When this is not the case, it is the Bluetooth that takes its share of energy. The use of this product can be very intense, such as at a family party where everyone wants their photo. Or it can be very episodic, with only a few prints per month.
The manufacturer claims a battery life of 100 prints, and during our tests, we were close enough with 95 photos printed. This gives us a cumulative battery life of between 1 hour and 1 hour 15 minutes, and you should allow between 1 hour 30 minutes and 2 hours for a full recharge.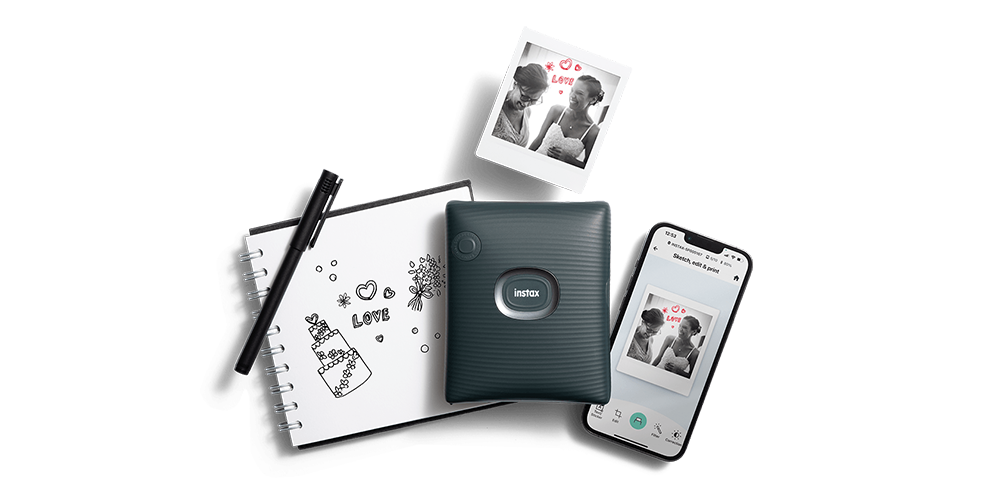 Conclusions
This mini photo printer brings the square format up to date and does so with talent. In addition to being a beautiful mobile object, it allows you to make quality prints, either raw or retouched by yourself.
Of course, there are better photographic renderings on paper. However, the result is still worth it, and the pleasure of giving and receiving a physical photo still affects our world where dematerialisation is king.
The app is also perfect and offers many creative functions, even if, for many, it will remain a gadget, significantly augmented reality. Finally, its only fundamental flaw is the cost of printing, which is not cheap, although it remains in the segment's average.
instax SQUARE Link smartphone photo printer, Midnight Green
Price History
Statistics
| | | |
| --- | --- | --- |
| Current Price | £114.86 | December 10, 2023 |
| Highest Price | £129.00 | June 5, 2023 |
| Lowest Price | £94.00 | November 13, 2023 |
Since May 24, 2023
Last price changes
| | |
| --- | --- |
| £114.86 | December 10, 2023 |
| £114.84 | December 7, 2023 |
| £94.99 | November 25, 2023 |
| £94.00 | November 22, 2023 |
| £94.99 | November 21, 2023 |
Fujifilm Instax Square Link Smartphone Printer- Ash White
Price History
Statistics
| | | |
| --- | --- | --- |
| Current Price | $129.99 | December 10, 2023 |
| Highest Price | $139.95 | June 3, 2023 |
| Lowest Price | $109.00 | November 18, 2023 |
Since May 24, 2023
Last price changes
| | |
| --- | --- |
| $129.99 | December 2, 2023 |
| $138.48 | November 29, 2023 |
| $109.00 | November 18, 2023 |
| $138.48 | November 10, 2023 |
| $138.49 | November 5, 2023 |