Pros
Good ergonomics
Good optical sensor
Charging station included
Bluetooth and 2.4 GHz connection
RGB customization possible
Cons
A little heavy (85 g)
Only five programmable buttons
Secondary buttons a little "cheap"
With the Clutch GM51 Wireless, MSI delivers an ergonomic, backlit wireless mouse with a charging base, all at a reasonably attractive price.
Overview

Following on from the Clutch GM41 Lightweight V2 in a compact, value-for-money format, MSI extends its gaming mouse catalog with the GM51 Lightweight Wireless. This mouse boasts a more ergonomic design, like Razer's DeathAdder or Logitech's G502X.
Here we're testing the wireless model, generally priced at around €100, but occasionally on special offer for less than €60, making it excellent value for money. An identical wired version is also available for €70.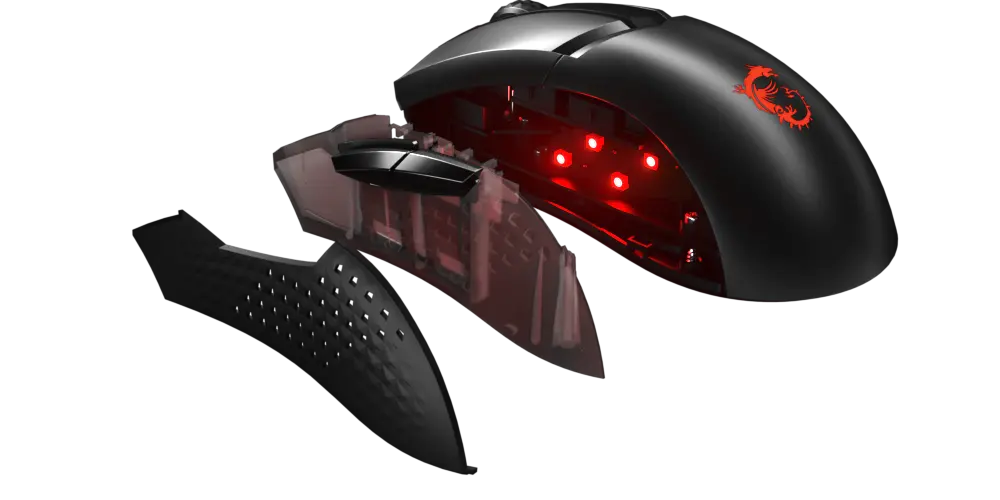 Ergonomics
The GM51 Lightweight Wireless is quite imposing but fits snugly in the palm of the hand thanks to its beveled shape, which is also found on the competition's products. Therefore, Its format is perfect for palm gripping, but it is also possible to remain in a claw or fingertip grip. As is often the case, it's for right-handers only. It's directly opposite Razer's DeathAdder V3 Pro, but without the ultralight aspect since MSI's mouse still weighs 85g. It is, however, lighter than Razer's Basilisk or Logitech's G502X, which exceeds 100 g, while offering fewer functions and less versatility.
The GM51 has five programmable buttons, which may seem limited for this size and weight. The main buttons are perfectly responsive, with Omron switches guaranteed for 60 million clicks. There are two secondary buttons on the left-hand edge, also responsive but not well anchored in place, which detracts from the mouse's build quality. There is another button on the scroll wheel, and that's all there is to it. The scroll wheel is notched and has no side or free scrolling, although this is not unusual among gaming models. You'll need to use the button on the mouse's underside to adjust sensitivity on the fly.
Next to this button are six PTFE pads for smooth gliding and a switch for selecting the 2.4 GHz or Bluetooth connection. It's always a good idea to have both options, especially on the move, if you want to avoid bothering with the receiver. A little originality: the receiver can be stored on the front of the mouse, near the USB-C connection for recharging.
You may not use this USB-C connection, as a charging dock is supplied with the GM51, a nice little bonus for storing the mouse and not worrying about battery life. This base plugs into the PC via USB-C and can accommodate the 2.4 GHz dongle, so you don't have to occupy two slots on your computer. Autonomy is claimed at 150 h, with lights off. According to the brand, a 15-minute charge provides 7 hours of use, so you've got plenty of time before you run out of power.
The edges of the mouse feature a textured coating for a good grip and rows of LEDs to customize the device's backlighting. Of course, all this can be managed in MSI software, but Dragon Center has been abandoned in favor of MSI Center. The latter looks rather unattractive and doesn't exude fluidity, but read our box below to learn more about its features.
Precision

The sensor chosen by MSI is a very good one, the PAW 3395 from Pixart. It supports accelerations of 50 G, and its sensitivity can reach 26,000 dpi, enough to traverse a 4K screen by moving the mouse just a few millimeters. This is often repeated but is of little practical interest. Five sensitivity levels can be assigned to the appropriate button, each adjustable in 100 dpi.
Conclusion
The MSI Clutch GM51 Lightweight Wireless is an efficient gaming mouse with an excellent sensor, but it's also quite basic, with few buttons, a simple toothed wheel, and a relatively high weight. It offers RGB lighting and a charging base as a bonus. Its compromises on features make it less expensive than the competition, and during special offers, its value for money can be exciting for a wireless gaming mouse.
MSI CLUTCH GM51 LIGHTWEIGHT Gaming Mouse - RGB, upto 26000 DPI, 8K Hz Polling, 83g, Frixion Free Cable, Ergonomic design, OMRON Switches, NVIDIA REFLEX, MSI Center
Price History
Statistics
| | | |
| --- | --- | --- |
| Current Price | £69.98 | September 23, 2023 |
| Highest Price | £69.98 | August 9, 2023 |
| Lowest Price | £69.86 | August 2, 2023 |
Since August 2, 2023
Last price changes
| | |
| --- | --- |
| £69.98 | August 9, 2023 |
| £69.86 | August 2, 2023 |
MSI Clutch GM51 Lightweight Wireless Gaming Mouse & Charging Dock, 26K DPI Optical Sensor, 2.4G & Bluetooth, 60M Omron Switches, Fast-Charging, 150Hr Battery, RGB, 5 Programmable Buttons, PC/Mac
Price History
Statistics
| | | |
| --- | --- | --- |
| Current Price | $79.75 | September 23, 2023 |
| Highest Price | $84.99 | August 10, 2023 |
| Lowest Price | $62.50 | September 1, 2023 |
Since August 2, 2023
Last price changes
| | |
| --- | --- |
| $79.75 | September 23, 2023 |
| $80.03 | September 21, 2023 |
| $84.99 | September 20, 2023 |
| $84.68 | September 19, 2023 |
| $84.72 | September 18, 2023 |