Pros
Long life cycle
Short charging time
Multiple output voltages
Integrated carrying handle
Power stations are ideal for camping, festivals or as an emergency power supply. The Anker 535 PowerHouse with 512-watt hours is available at Amazon for the best price.
When the power fails or is unavailable, you quickly notice that something is missing, and it is necessary for many devices. If you don't want to do without electricity when camping, in the garden or the event of a power cut, you can rely on a mobile power supply.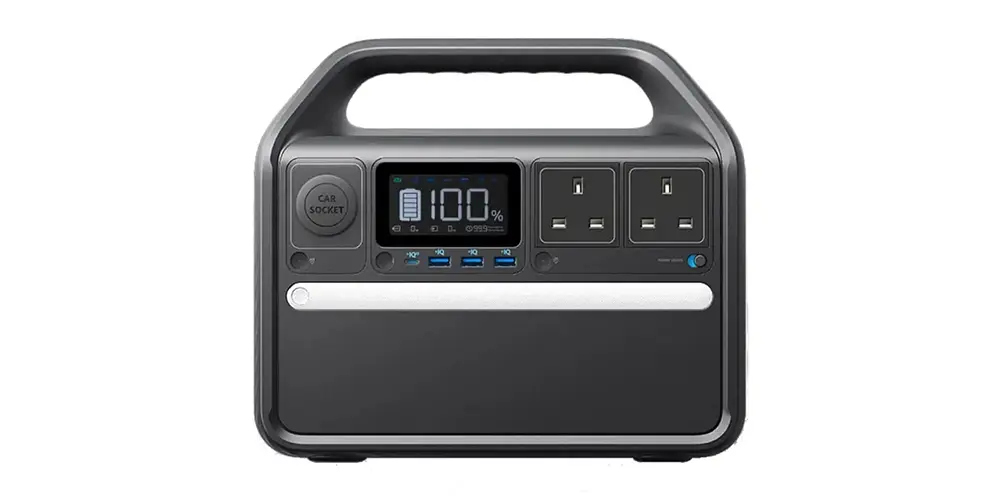 The Anker 535 PowerHouse weighs 7.6 kilograms with dimensions of 29x25x18 centimetres. Thanks to the handle, it is easier to transport. The LiFePO4 battery in the shockproof housing delivers up to 512 watt-hours. According to the manufacturer, this is enough for 33 smartphone charges or 31.1 hours of power for the WLAN router. According to Anker, the power station is designed for smaller to medium-sized devices with less than 500 watts. There are two sockets, three USB-A ports, one USB-C port and one car charger port on the device. The battery can be charged to 80 per cent in less than 2.5 hours. The Anker recharges via USB-C, a power socket or a solar panel. Other features include an LED display, an LED light and a power-saving mode. Anker promises a ten-year battery life and a five-year manufacturer's warranty.
Anker 535 Portable Power Station, 512Wh Portable Generator, 500W 7-Port Outdoor Generator with 2 AC Outlets, 60W USB-C PD Output, LiFePO4 Batteries, LED Light For Camping, RV, Power Outage, and More
Price History
Statistics
| | | |
| --- | --- | --- |
| Current Price | £329.00 | December 11, 2023 |
| Highest Price | £599.99 | February 13, 2023 |
| Lowest Price | £329.00 | November 17, 2023 |
Since February 10, 2023
Last price changes
| | |
| --- | --- |
| £329.00 | December 11, 2023 |
| £369.00 | November 29, 2023 |
| £329.00 | November 17, 2023 |
| £369.00 | November 3, 2023 |
| £499.00 | October 10, 2023 |
Anker 535 Portable Power Station, 512Wh Solar Generator (Solar Panel Optional) with LiFePO4 Battery Pack, 500W 9-Port Powerhouse, 4 AC Outlets, 60W USB-C PD Output, LED Light for Outdoor Camping, RV
Price History
Statistics
| | | |
| --- | --- | --- |
| Current Price | $499.99 | December 11, 2023 |
| Highest Price | $499.99 | February 10, 2023 |
| Lowest Price | $349.98 | November 19, 2023 |
Since February 10, 2023
Last price changes
| | |
| --- | --- |
| $499.99 | November 29, 2023 |
| $349.98 | November 19, 2023 |
| $349.99 | November 18, 2023 |
| $499.99 | September 4, 2023 |
| $367.49 | August 28, 2023 |